We knew this day would come and it has finally arrived! Kristi Birkeland is joining us at Q4intelligence as our newly minted Integrated Marketing Director.
This is a new role for us as we expand our services for insurance agencies into full Demand Generation, helping agencies fill their pipelines and build brand recognition through educational marketing.
Through Lead Generation, led by Jeff Jurkowitz, we're engaging employers through marketing and telemarketing efforts and preparing them to have different conversations with benefit consultants.
Through Integrated Marketing we're helping agencies develop their messaging and brands through website building and inbound marketing programs.
Kristi is a perfect fit for this role. With her personal motivation for making the world a better place – one job, one person, one business at a time – she is exactly the advocate our clients need to help them create and share the message that really embodies who they are and how they care for their clients.
We have a long history of working with Kristi and could not wait for the opportunity to add her to our team, creating the magic that flows so well when we team up!
Get to know a bit more about Kristi in her own words. And then head over to LinkedIn and connect with her – but be sure to let her know you read about her here. She's a stickler for a good "I'd like to connect" message. It's the writer in her. She can't help it.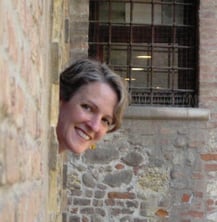 Hey Kristi! Tell us about yourself!
I always think I can win anybody over. I'm shocked when my lottery ticket isn't the winner. Every time I go on vacation I want to move there. If the sun is out, I'm on my bike. If it's raining, I'm in a coffee shop. I once took a stand-up comedy class because I secretly think I'm hilarious. Okay, not so secretly. A lot of people have a fear of public speaking, but I'm not one of them. Put me in front of an audience. Please!
Why did you want to work with the Q4i team?
Two words: Inspired Leadership. Who wouldn't want to get up each day and work with a team that's 150% excited about what they can bring to the table? Kevin and Wendy regularly take old school thinking and dump it on its head. I am confident I will never hear "…but we've always done it this way!" at Q4i, and that makes me downright giddy.
What are you most excited about in taking on this new role?
Oh man, so many things. I guess one way to sum it up would be The Possibilities. This organization is on the cutting edge of business processes and technology. Our approach to sales and marketing is very client-focused and completely refreshing. Because Q4i is so innovative and responsive, I have no doubt the company will grow in ways we haven't even imagined yet, and that my job will be very different tomorrow than it is today. If that isn't exciting, I don't know what is!
Welcome Kristi! So excited to have you here!