LinkedIn has released a new tool, Social Selling Index, allowing users to analyze their online performance for social selling. In other words, how well are you taking advantage of the online resources available to you (for free) to build your credibility and your network?
According to LinkedIn, those who excel at using their social resources drive better sales results:
Social selling leaders create 45% more opportunities than peers with lower SSI.
Social selling leaders are 51% more likely to reach quota.
78% of social sellers outsell peers who don't use social media.
When you get your score, you'll get a breakout of how well you're performing in each of their four categories (explained below). You'll also get a breakout of how you compare to your Industry and your Network.
Using my own score as an example, you'll see I have a total composite score of 74 which puts me in the top 1% of the insurance industry.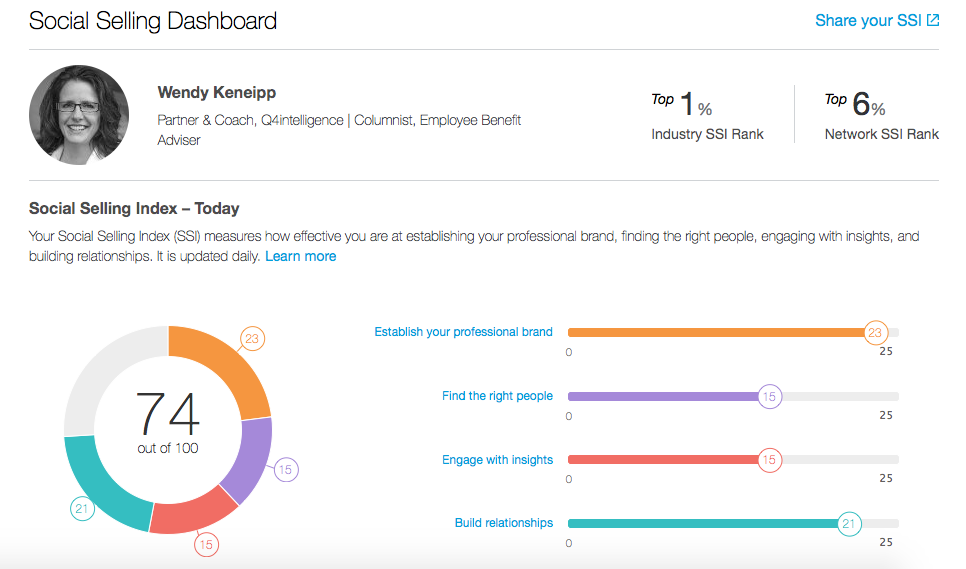 And the comparison for the Insurance Industry (below) shows an average composite of 13.

Yes, you read that right. 13.
This is far less than mediocre. This is downright terrible. It's depictive of an industry that doesn't believe in the power of social selling. And knowing what I know about agency performance in meeting goals, this Does. Not. Surprise. Me.
Way too many agencies are not meeting goals at the very same time they are rejecting business practices that bring them into the social selling age. The argument we hear regularly is that social selling isn't effective. But when you're not participating (which is what this score shows), then NO, it won't be effective.
With an average score of 13, it's pretty obvious that we're bringing down the averages listed at the top. Let's change that.
Starting today.
Review the categories below to learn what they mean to you from a selling perspective and then spend the next hour working to build your brand and your business.
The LinkedIn Social Selling Index is comprised of four categories
1. Establishing your personal/professional brand
81% of buyers are more likely to engage with a strong professional brand
92% of B2B buyers engage with sales professionals if they are known industry thought leaders
Having a presence online, and particularly on LinkedIn as it's the professional network, is critical for establishing your professional brand. In the age of social networking and everything being available online in an instant, if you don't have a presence, you don't exist. If you have a weak presence, you're looked upon as being behind the times and lacking credibility.
2. Find the right people through search and research
Sales reps who exceed their quotas are engaging on LinkedIn with their prospects 39% more than other sales professionals
Sales reps who viewed the profiles of at least 10 people at each of their accounts were 69% more likely to exceed quota
Having a profile isn't good enough. You must use it and take advantage of the resources it provides if you want to make your job of selling easier, more effective, and more productive. Expand your network by connecting with all co-workers, clients, insurance carrier partners, service providers, centers of influence, and everyone you know from church, little league, Rotary, etc. The more people you are connected with, the more reach you have in your network.
3. Engage with connections by sharing conversation-worthy updates
64% of B2B buyers say they appreciate hearing from a rep who provides insights and updates about their business
Reps who are exceeding quota see 74% more engagement on their posts than those who aren't exceeding quota
I cannot stress enough how important it is to take advantage of the learning opportunities afforded through LinkedIn. Read articles posted by your connections and through the LinkedIn Pulse app. Read the articles shared by your connections and learn what's important to them and their world. Comment, Like, and Share. Make notes of what you learn about your clients and prospects. It will come in handy during conversations.
Share relevant articles with your connections and always tell them why you're sharing it – Who is the target audience? Why should they take the time to read it? How is it relevant to them? It only takes a couple of minutes to add some of your own commentary before sharing, and it gives you credibility for your additional thoughts.
4. Build relationships and strengthen your network by establishing trust with decision makers
73% of B2B buyers prefer sales professionals who have been referred to them by someone they know
Buying decisions now typically include 5.4 decision makers
Being connected on LinkedIn to just your main contact is not enough. Establish your connections deep and wide in an organization. Learn who the players are and what their roles are. Active LinkedIn participants will tell you more than any well crafted web site would ever think about sharing. Use that information to tailor your message to your various audience members when you get that meeting.
Get started: Go get your free Social Selling Index score and then get to work every day making strides to build your network and your brand, get closer to your sales goals, and increase your SSI along the way.