You logo is not your brand. But it is a visual representation of your company and a critically important one. The effort and care you put into your company visuals tells your audience a lot about you.
Who are you as an organization? What do you value? How do you view yourselves? Your audience? It may sound like a lot to pack into an image, but if you take a critical look at brand visuals, you'll start to see these answers emerge.
What is an image worth?
Think about your own brand image. Take some time to reflect on the message it's sending. It it saying what you want it to say about your company?
Are you a company that feels really clear on what you're doing and what your brand personality is and keeps your brand visuals in line with these ideas?

Audience interpretation: This is a company that knows what they're doing, and I have confidence in their advice.

Are you a straightforward group who tells it like it is with you company name and your visuals? It may not be fun, but it leaves no questions in the minds of the readers about what you do.

Audience interpretation: This group may not be fancy or forward-thinking, but I feel good that their advice is going to be solid. I have confidence that the basics will be taken care of.

Are you an organization that can't quite figure out what your value proposition is so you change your tag line every few months?

Audience interpretation: They don't really know what they want to do when they grow up. Probably solid on the basics of insurance, but I'm likely going to be a guinea pig along the way for their idea-of-the-day. As long as I stick with the basics, they'd probably offer fine advice. But I may be wary of anything else. If I want creativity, I'm going to find a specialist.

Are you a DIY type of operation that creates your own logo and hangs onto it to honor the history of the organization? Or maybe out of fear that if you change your image or name it will be so disruptive to your clients that you'll lose business opportunities?

Audience interpretation: This operation is a little wonky, and I'm not sure how or what to think about them. Are they stuck in the past? Are they even keeping up with trends and business practices with their clients and employees? Do they take advice from other professionals and look to expand their knowledge? This one leaves a lot open to question and the answers may not fall in your favor.
Whether any of these audience descriptions prove true or not, it's how people interpret what they see from you that defines your brand. You put the images, the words, and the actions out there and people experiencing them are the ones who determine what your brand / reputation is. When you see the Nike swoosh, you most likely have thoughts and feelings that jump to mind.
When you see the McDonalds, Coke, Starbucks, Google, or Facebook logos you probably have a reaction, whether it's one of happiness, dismissiveness, or downright irritation. You may not even be aware that it's happening. And your feelings may evolve over time. But the feelings are there because of the things you've experienced and/or heard about them over the years.
It's important to pay attention to these ideas and feelings and see how they match your own image of your company. If you feel good that your external and internal feelings and sentiments are in alignment, then you're probably in good shape.
But if you feel anything is off, then you need to follow that gut feeling and explore it.
Case study in brand evolution: Q4intelligence
Here's a case study to show how these changes can happen through an organic evolution.
We started our company as Benefits Growth Network. We wanted to bring benefits agencies together in a network to share ideas and resources and provide coaching and guidance to help them grow their organizations. It was a solid name that was very descriptive of what we did.

This was our name and brand image for our first four years. As the business grew, we started feeling constrained by the limitations of the name. We worked with multi-lines agencies, and even some P&C agencies as well. To only focus on benefits agencies unnecessarily limited our audience. Our ideas are for agencies in general and don't need to be exclusively for benefits agencies.
We went through a lot of internal review and reflection and decided to change the name to Q4intelligence to better represent the overall work we were doing with our clients. The new name speaks to the growth part of our original name, but does so in a more strategic way. The Q4 refers to quadrants of a business growth model:
Look outwards at the broader market for innovation
Look outwards at your audience and how to effectively interact with them
Look inwards at your operations and continuously make improvements
Look inwards at your operations and remove things that are no longer working
And the intelligence refers to approaching your business in a thoughtful, strategic way. We had a reputation for saying things people needed to hear, and we wanted the image to reflect the solid, yet flexible approach we took to agency development and sales training.
It was a big leap, but we felt we had enough individual name recognition and brand presence among our existing audience that a company name change could be supported with continued, consistent marketing efforts. So, we took the leap and hired a new designer, jriley creative, to help us make this change.

The distinctive two-color visuals we created were recognizable, and the shortened Q4i name took hold in the market. We've been running with this and have felt good about it ever since.
At the five-year mark, we wanted to incorporate the rest of our color palette that we only used internally, and we started to expand the use of the colors externally on our website. And once you paint one room, it's hard not to paint the whole house. So it got us thinking about the images, the value proposition, and the brand in the market.
A year later, we decided it was time to do a complete evaluation and make some modifications to reflect who we are today as a group and where we're leading our agencies. Continuing to work with jriley creative as our brand advisor, we've come to an evolution of Q4intelligence that feels like a fresh interpretation of our original, yet evolving, vision of how we help agencies grow.

We decided to go with a grayscale approach and open the opportunity to use our full color palette in different ways that bring a bit of individuality and fun to the brand – key ideas of our brand we wholeheartedly embrace. For example, we've each chosen colors from our color palette that speak to us. We have business cards and social media pages reflecting those choices.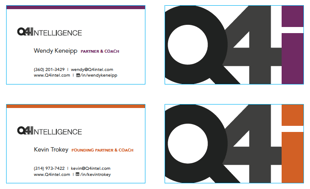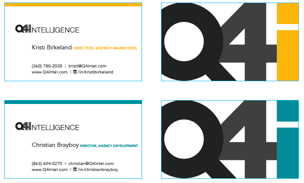 (We're rolling out our new branding this week, so watch for the changes! 🥳)
Matching the visuals to the company
Does all of this feel a bit unusual? Probably. And that's what we've also come to embrace about Q4i, that we create our own path and don't feel constrained by expected norms. Doing what your neighbors are doing doesn't make you stand out and doesn't make you a leader.
We feel a big part of our role in the industry is to do what we advise and show people how to get comfortable with some new levels of discomfort. Without change, you'll never grow. And without change over a sustained period of time, you'll start to lose the ground you have.
We're not suggesting that you run out and rebrand your agency. We are never proponents of rash superficial actions and, in fact, will do our best to talk you out of it! But rather, we do want to encourage you to take some time and reflect on what your brand says and ask yourselves if it's in alignment with who you are today and where you're going.
If rebranding or refreshing does become the logical answer, then take time to completely define your business model, your vision, your purpose, your audience, and your value proposition. Because without this information clearly defined and in a concise written format to give your graphic designer, the best you're going to end up with is a new pretty graphic that doesn't represent your company with any substance.

If you need help with your own marketing, click below to check out our marketing resources. And then contact us for a review of your own brand and marketing efforts.
We specialize in insurance agency marketing from brand development to copywriting and website building to content creation and social media. If you're in the industry, we've got your back! 😀